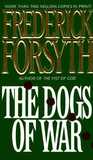 The Dogs of War by Frederick Forsyth
My rating: 5 of 5 stars
The Dogs of War is another excellent Forsyth book that is well plotted and heavily detailed with some limited action at the end. It's almost an injustice to call it a thriller, but a thriller it is. Just a slow paced one.
It's about Zangara, a small republic in West Africa, where a mountain is discovered that is thought to have tin in it. However, it's discovered to be platinum and about 10 billion dollars' worth. The mining company that has done this survey, located in London, is eager to gain mineral rights to the mountain, but the dictator of the country is cozy with Russia and the concern is once it's made known what's in the mountain, Russia will get first dibs. So, the owner of this company dreams up this elaborate scheme to hire mercenaries to overthrow this African nation's government and install a puppet regime which will give him mineral rights to the mountain containing the platinum.
Enter Cat Shannon, mercenary. He's one of the best, if not the best around. He and his gang are looking for work when he's approached with this offer and so begins a lengthy round of planning and logistics that would bore the hell out of many readers (including my wife), but really gives one the feel of what it takes to purchase, transport, and store black market arms, as well as other goods. Shannon has 100 days to execute his plan. He buys a ship, hires a few more men, trains, and on Day 100 storms the beach, ready to take on the dictator's men. I'm not going to give away the ending of the book, but suffice it to say that there is such an unexpected plot twist that I pushed my rating up from four to five stars based solely on that alone. Simply brilliant.
This isn't Forsyth's best book, but it's really pretty good. I understand they made a movie of it and now I shall have to seek it out and watch it. If you're easily bored by books that aren't fast paced 100% of the time (or even 50%), this isn't the book for you, but if you like good political and military thrillers with depth, I'd give this a try. Recommended.